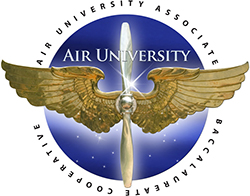 Southwestern College allows airmen to transfer in their Community College of the Air Force (CCAF) degree (64 credit hours) and work toward an approved bachelor's degree. When transferring in the CCAF degree, the Air University's Associates to Baccalaureate Cooperative Program (AU-ABC) guarantees that the airmen only need to complete up to 60 additional credit hours to obtain his/her bachelor's degree.
Southwestern College Professional Studies offers nine AU-ABC degree programs that include six-week online classes:
Please note: Airmen are not limited to nine programs but may have to take more than 60 credit hours for programs that are not on the above list.
Contact our VA certifying official
Chris Smith
Coordinator of Military Education & VA Certifying Official 
Email: chris.smith@sckans.edu
Phone: (316) 866.3323
Toll Free: (888) 684-5335 ext. 3323
Helpful Links: