Southwestern College is committed to providing quality education programs to spouses of United States military service members. Military spouses experience convenience in our wide range of online bachelor and master-level degree programs and flexibility knowing they can halt their education at any point and re-start when life allows. In addition, spouses of Active Duty members, Guard and Reserve are extended our military discount of $250 per credit hour in our undergraduate programs.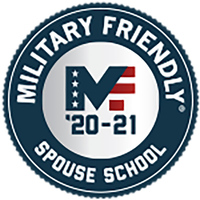 DoD Spouse Education & Career Opportunities Program (
SECO

)

Military spouses pursuing careers that require a licensure or certification may be eligible for the Department of Defense (DoD) Spouse Education and Career Opportunities (SECO) program. Visit the website for more information.
MyCAA Scholarship for Military Spouses
The MyCAA Scholarship is an employment assistance program that provides financial assistance to eligible military spouses who are pursuing a license, certification or Associate's degree in a portable career field and occupation.
Portable Undergraduate Degrees at SC
Portable Graduate Degree Programs at SC:
Learn more at militaryonesource.mil
If you have questions or comments, please contact the MyCAA School & Program Support Team via email or phone, 888.256.9920.
Available Scholarships and Grants
Visit our full list of scholarships and grants.