Admissions
Every new learner at Southwestern College Professional Studies will experience guidance and assistance from our team of admissions counselors. Our counselors are here to help you as you get started attending online classes with us.
You can expect your admissions counselor to:
Assist you with the application process
Provide you with an unofficial transcript evaluation
Help you identify the best major to match your career goals
Register you in your first session
Assist you through your first week of class(es)
Help re-admit learners who have been out of classes more than a year
Admissions Counselors
Sam Clark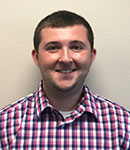 Admissions Counselor
Phone: 316.866.3373
E-mail: sam.clark@sckans.edu
Toll-Free Phone: 888.684.5335 ext 3373
Sam Clark earned his B.S. in Sports Management from the University of Kansas and his M.A. in Higher Education Administration from the University of Missouri – Kansas City. Before joining the SC team, Sam worked as a graduate success coach at Park University. In his free time, Sam enjoys traveling and spending time with family.
Derek Lawrence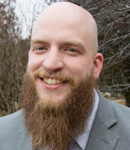 Assistant Director of Admissions and Student Services
Phone: 316.866.3371
E-mail: derek.lawrence@sckans.edu
Toll-Free Phone: 888.684.5335 ext 3371
Derek earned his B.A. in Management from Wichita State University in 2012. Derek managed a movie theater before beginning a career in higher education in 2014. In 2015, he began working as an admissions counselor at Professional Studies focusing on assisting Air Force learners around the world meet their educational goals. Derek was promoted to assistant director of admissions and student services in 2018. When he's away from work, he enjoys working on home renovation projects.
Rachael Warwick
Admissions Counselor
Phone: 785.784.9930
E-mail: rachael.warwick@sckans.edu
Rachael Warwick earned her B.S. in Sociology from Colorado State University-Pueblo. Before joining the SC team, Rachael began her journey in Higher Education assisting new students through admissions processes at CSU extended studies as a student mentor. Rachael completed a 12 credit hour internship in advising and accepted a position with Pikes Peak Community College, Colorado Springs, Co, in Advising and Testing where she worked for 4 years as an Advising and Testing Specialist. Rachael returned to her home in Kansas and resides just outside of the Fort Riley Army Base. Additionally, Rachael worked for Barton Community College in a customer service/administrative role previous to accepting her position with Southwestern Professional Studies. Rachael is passionate about servicing the uniquely diverse student population of Fort Riley. In her free time, she enjoys family and friends while looking for any excuse to be active and outdoors.
Tye Pameticky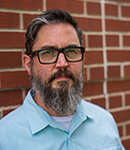 Admissions Counselor
Phone: 316.866.3312
E-mail: tye.pameticky@sckans.edu
Toll-Free Phone: 888.684.5335 ext 3312
Tye earned his B.A. in Studio Art, Printmaking from Oklahoma State University in 2003. Tye has worked as a substitute teacher for the Wichita School District, was a District Director for the Quivira Council, Boy Scouts of America, and as a Realtor. When he's away from work, he enjoys spending time with family, hiking, and going on long motorcycle rides.