Helping Students Achieve their Dreams
January 8, 2018 7:25pm
If there was ever a person who knows what it means to multitask, it's Southwestern College Admissions Counselor Miranda Kober. The first in her family to graduate from high school, Miranda knew the importance of accomplishing higher education. She attended a junior college before transferring into Southwestern College Professionals Studies in 2011. And with her husband in the military, 14-month-old son and another baby on the way, taking classes proved to be a challenge.
"It was difficult juggling motherhood, being a wife and trying to be a full-time student since I took 18 credits a semester here," she says. "I learned a good routine and managed my time in a way that I didn't sacrifice time with my children. I would really focus on reading and homework while they were asleep which helped me maintain A's for the most part."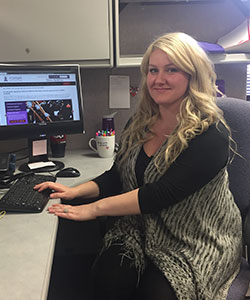 After Miranda earned her bachelor's degree in human resource development she worked at a debt collection agency. It closed a short time later and she took a position in admissions at a for-profit college. Admitting the work there seemed unethical and stressful, she switched gears after two years and took a position as an admissions counselor for Professional Studies.  
"In the for-profit world it was more about the enrolling even when it may not have been in the best interest of the student, which was really hard to handle after a while," she says. "A non-profit feels more honest and student-based which is something I enjoy more."
Miranda works to assist those who inquire about programs to transition into enrolled learners. She also answers questions about degree programs, credit transfer and military tuition discounts.
"I feel I help learners best by trying to make their process of getting back into school as seamless as I can," she says. "I know what it is like to enter college when you are working and have a family, so I try to make sure they feel the support they have from the college."
While Miranda works to assist Professional Studies learners find a program that fits them, she continues to plan her next education and career moves. She is currently considering either the marriage and family therapy field or pursuing a nursing degree.
If you have any questions about the enrollment process, credit transfer or any Professional Studies programs, please reach out to Miranda via email at miranda.kober@sckans.edu or by phone at 316.866.3381.