Southwestern's Master's in Management Degree Program Makes Top 50 List
April 13, 2017 9:25am
WICHITA, Kansas – Southwestern College's online Master's in Management program has been ranked one of the top in the country.
The college's program has been featured on the list of Top 50 Best Value Online Master's in Management Programs for 2017 by Value Colleges.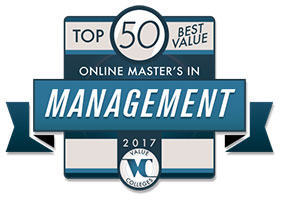 Value Colleges gathered data from regionally-accredited colleges in order to find the greatest balance of three metrics. Those metrics included reputation (retrieved from the U.S. News and World Report), cost, and graduate salaries (gathered from the Department of Education College Scorecard). It strives to provide potential learners with information necessary to make informed financial and educational choices when it comes to choosing the right college or university.
The Southwestern College Professional Studies Master of Science in Management (MSM) prepares leaders of today's complex and diverse business environment to manage key business operations and lead their organizations to success. The program's six-week online classes allow working adult learners to attend class day or night from anywhere in the world.