Meet the Staff: Academic Success Coach Shirley Baker
January 19, 2017 7:25pm
Wichita, Kansas – Becoming an Academic Success Coach was not what Shirley Baker originally had planned at Professional Studies. Already an instructor at Wichita State University, she was hired by PS temporarily to cover for an admissions counselor out on maternity leave. Before her interim position ended, a coaching spot opened. Baker's background in communications and experience teaching made her an exceptional fit for an advising position.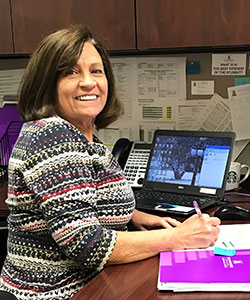 "I taught at Wichita State University for many years and met students from a variety of backgrounds," she says. "Advising is similar to teaching except we get to see growth over a longer period of time. We get to see our students overcome struggles and then watch them graduate."
A former adult learner herself, Baker earned her B.S. in Business with an emphasis in Quality Management and her Master's degree in Communications. Her career background includes positions as a systems analyst, technical writer and marketing manager. She credits those experiences with assisting her when advising students in the Operations Management and Business Quality Management programs at Professional Studies.
"Improved communication is critical in my position as a coach," she says. "Our students are busy with their job, family and coursework. If I communicate well and efficiently, based on what each student needs, that helps them be successful." 
Baker assists her students with enrolling in classes, buying books and answering questions they have about courses. She also creates degree plans to make sure her learners stay on the path to graduation.
Baker enjoys spending her time away from PS by traveling. She's already met her goal of visiting all 50 states and has completed a few international trips. She doesn't have any immediate plans to journey beyond Professional Studies, saying that seeing students through their journey keeps her fulfilled.
"I love what I do at Southwestern," she adds. "I think I've found a job that matches my personality, so I plan to continue working here with students."
Shirley Baker can be reached via email or by phone, 316.866.3383.