Professional Studies Alumnus and Faculty Member Honored with National Award
December 31, 2019 9:12am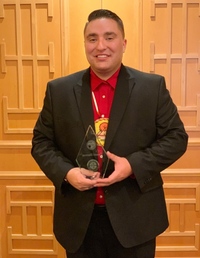 PONCA CITY, Oklahoma – Being distinguished as a National Center for American Indian Enterprise Development (NCAIED) 2019 Native American 40 Under 40 is a tremendous honor for Daniel Sherron, a Ponca Indian and alumnus of Southwestern College Professional Studies. Sherron, clinic manager for the Osage Nation Health Services in Ponca City, Oklahoma, received the award in Phoenix, Arizona in August.
"I was truly humbled by the award and by being in the company of so many people who actively engage in their communities to try and make a positive difference," said Sherron.
For Sherron, the desire to earn a college education and enter the field of healthcare was two-fold. As a husband and father, he wanted to do better for his family. As a Ponca Indian, he wanted to do better for his tribe.
"One day I just snapped and said, 'This is ridiculous. I have to do better for myself and my family.' And when you work for your tribe, you feel like you are part of its success. I guess for Native Americans, you feel like you're helping your people."
Sherron double majored, earning his undergraduate degrees in human resource development, and healthcare administration in 2015. In 2017, he graduated with his master's degree in business administration, an investment he is thankful he made.
"As soon as I got my master's degree, it really opened doors that probably wouldn't open before. To me, education is ultimately about self-fulfillment and what you want to do with your life."
Sherron now oversees the daily operations for the Osage Nation Wah-Zha-Zhi Health Clinic, a federally funded clinic offering a host of health services to all Native American tribes. The clinic has 45 full-time staff members, a pharmacy, and some 48,000 projected patient interactions this year alone. He says it's a job he's honored to have in a clinic that offers robust services.
"Years ago, there was an assumption that Indian healthcare was subpar, be we have made great improvements in our ability to provide top quality healthcare to our patients. We have a brand new 3D mammogram unit, reputable physicians, and a top notch pharmacy."
Along with his career in healthcare, Sherron has found a love for teaching online business courses for Professional Studies, including Multi-Cultural Perspectives and Global Trends.
"I feel the learner's experience is better when you have a diverse faculty. One of the things I teach in business courses is that when you have a diverse staff, it increases your ability to innovate and problem solve. And we should keep that in mind on the collegiate level as well."
It's Sherron's passions for career, teaching, his tribe, and his family, which includes his wife and six children, which make it easy to see how he stood out nationally. In fact, just one day after arriving in Phoenix to accept his award with his wife and mother, he returned home in order to attend his tribe's 143rd powwow. It's a gathering he's never missed that pays tribute to those no longer living, provides the chance to see family, and observes the ways of his tribe – one he feels privileged to bring recognition to.
"I hope it opens doors for other members of my tribe as they strive to help others in the Native American community. I am the first, but I certainly hope not to be the last."