Allison Apaza


MBA Health Administration
Allison Apaza holds a master's degree in Public Health (MPH) in Healthcare Administration from The University of Oklahoma Health Sciences Center.
Apaza has spent the majority of her career working in emergency services as the director of an emergency shelter in Andover, KS. She has also worked in international health as the interim director of a clinic, school, and orphanage in Bukaleba, Uganda, and in several roles within the mental health field.
She has been an affiliate faculty member for Professional Studies since 2014, teaching courses within the Healthcare Administration program. She is passionate about preparing competent professionals to work in the ever-changing world of healthcare administration and is proud to be a member of Southwestern's faculty.
Darron Esan
MS Criminal Justice
Darron Esan is a 24-year law enforcement professional, currently holding the rank of lieutenant with the Orlando Police Department. Prior to his law enforcement career, Darron graduated from Florida State University with a Bachelor's of Science Degree in Criminology. Shortly after graduation, he began a career with the Tallahassee Police Department where he served as a Patrol Officer for three years. Esan was hired by the Orlando Police Department in 1999 where he was promoted to sergeant in 2006. As a sergeant, Esan supervised the first Joint Homicide Investigation Team, the first of its kind in the United States, investigating high-profile homicide cases in the central Florida region. In 2014, Esan was promoted to the rank of lieutenant. He is currently serving as a watch commander over the Orlando International Airport Division.
During his career, Lt. Esan has had the opportunity to serve as a Hostage Negotiator for 10 years and currently serves as the deputy team commander over the Emergency Services Unit. As a member of the Emergency Services Unit, Lt. Esan responded to and assisted with the coordinated response to the Pulse Nightclub shooting among many other critical incidents which required an ESU response.
Lieutenant Esan has an MS in Criminal Justice from the University of Wisconsin. He also holds certifications including Digital Professor, Human Diversity Instructor, State of Florida General Instructor, Basic Narcotics Investigations, and DEA Narcotics Investigations. He has been an adjunct professor for Southwestern College Professional Studies since 2017 and has had the opportunity to serve as a course developer for multiple courses within the Criminal Justice and Homeland Security disciplines.
Kenneth Jackson
DM Organizational Leadership, Master of Health Service Administration, MBA, and Master of Education – Educational Management
Dr. Jackson earned his Doctorate of Management in Organizational Leadership from the University of Phoenix. He also has master's degrees in Health Service Administration, Educational Management, and Business Administration from Strayer University. He is also a certified Lean Six Sigma White Belt.
Dr. Jackson currently works as a procurement and fleet manager where he is responsible for managing and training county personnel for his county's procurement functions adding analytical reviews to complex purchasing requirements. He is also responsible for establishing standard operating procedures for the purchasing department to ensure all purchasing functions and operations are efficiently executed.
He has been awarded the ATLAS Award for Supply Chain Performance and Supply Chain Efficiency as well as the Naval Supply Efficiency Blue "E" Award.
Dr. Jackson teaches courses within the Business Administration and Operations Management degree programs for Professional Studies. He currently lives in Delaware.
Michael Johnson
PhD Management, Leadership and Organizational Change, MS System Engineering, and MBA Technology Management
Dr. Michael Johnson, Ph.D. has 30 years of aerospace engineering experience, which has included various assignments from individual contributors to management in the areas of simulation support of research and development, lab test, flight test, and new airplane design. He has held positions including R&D computer operations manager, systems engineer for the 787 static and fatigue aircraft interfacing with all global partners, and 787 engineer training development and deployment leader to name a few.
Dr. Johnson holds a B.S. in Computer Science, an MBA in Technology Management, an M.S. in Systems Engineering, and a Ph.D. in Management. He is a Distinguished Toastmaster, the highest level education award available. Dr. Johnson is also an experienced mentor and trainer, and recognized leader within the local district organization.
He resides in Garden Ridge, Texas near San Antonio.
Michael Lau
MA Clinical Psychology
Michael Lau has a BA in Psychology from the University of Wisconsin – Milwaukee and a MA in Clinical Psychology from Roosevelt University. He has been a licensed clinical professional counselor within the state of Illinois since 1993 and is also a Certified Health Coach from the Institute of Integrative Nutrition from the State of New York.
He has been working in the mental health field for approximately 27 years. He has held numerous positions in his career including intake psychotherapist, psychotherapist, case manager, director of psychological testing, director of performance/quality improvement, and chief compliance officer. He is currently in private practice and the co-owner of Integrated Therapy and Health Coaching, LLC.
He has published many articles and presented at the state and national levels on topics including performance improvement, statistical quality control, corporate compliance, and medical necessity as it relates to psychology and various areas within the field of psychology and mental health. He also participated on the editorial board for a number of years for Compliance Watch Newsletter.
Michael has taught for various community colleges for approximately 17 years, teaching many different subjects within the discipline of psychology. He has been teaching within the psychology program at Professional Studies since 2018.
Natalie Leutwyler
MS Security Administration
Natalie Leutwyler holds a Master of Science in Security Administration from Southwestern College Professional Studies where she also received two graduate certificates: one in Emergency Planning and the other in Enterprise Risk Management. She also holds two undergraduate degrees from Southwestern: a Bachelor of Science in Healthcare Administration and a Bachelor of Science in Human Resource Development.
She joined the affiliate faculty at Professional Studies in 2019, where she teaches courses in Security Management and Administration. She has over five years of experience in U.S. and global privacy laws and industry-agnostic information security. She worked for several years in the healthcare industry as a HIPAA Privacy and Security Officer, where she stood up a privacy and security compliance program for a CLIA and CAP certified toxicology lab. Currently, she holds a position as a Lead Privacy and Security Analyst, where she champions the development of privacy and security controls in a risk- and compliance-based framework; leveraging regulations and frameworks such as CCPA, GDPR, HIPAA, ISO 27001/2:2013; and NIST 800 series.
Prior to pursuing her passion in privacy and security, Ms. Leutwyler received her Associate of Science degree in Aviation Maintenance Technology from the Community College of the Air Force. For six years, Ms. Leutwyler worked as an A-10 Warthog Crew Chief in the 917th Fighter Squadron of the U.S. Air Force; during which time she deployed to Afghanistan, where she was awarded Operation Enduring Freedom Top Performer by her unit commander in 2012.
Ms. Leutwyler currently resides in Frisco, Texas.
Richard Lewallen
MS Security Administration
Richard Lewallen enlisted in the United States Marine Corp upon graduating high school and continued to serve as an active duty Marine for the next 30 years. During his career in the Marines he worked in the telecommunications field, serving in multiple billets and deploying overseas several times. He was assigned as a senior command advisor both as a First Sergeant and Sergeant Major during his last decade of service. He was privileged with the opportunity to lead an infantry battalion into combat twice, provide mentorship and oversight to the Marine Corps' Aviation School, and guide the professional development of over 10,000 service members serving across the country. Richard retired from the Marine Corps in 2013 and immediately started work as a Junior Reserve Officer's Training Course Instructor at Topeka High School. After two years, he accepted his current position as the Antiterrorism/Force Protection Program Manager for the Adjutant General's Department in Topeka, Kansas.
He holds a Master of Science in Security Administration.
Eduardo Lopez
MS Criminal Justice
Eduardo holds an associate's degree in Criminal Justice Technology from Valencia College, a bachelor's degree in Administration of Criminal Justice from Mountain State University, and a master's degree in Criminal Justice from the University of Central Florida. He has provided instruction at the college-level for 10 years with experience in on-ground, hybrid, and online instruction. Eduardo has been an affiliate faculty member with Southwestern College since 2012 and is excited to share his expansive experiences with students.
Currently a member of the management team for the Special Investigations Unit (SIU) at one of the largest insurance companies in the country, he oversees general fraud investigations to major Racketeer Influenced and Corrupt Organizations (RICO) investigations. He works hand-in-hand with local, state, federal law enforcement agencies, and the National Insurance Crime Bureau to assist in the successful prosecution of both civil and criminal cases. Eduardo has held the positions of intelligence specialist with the U.S. Office of Naval Intelligence, superintendent with the Central Florida Regional Transportation Authority in Orlando, Florida, manager of Emergency Support Function -1 with the Orange County Florida Office of Emergency Management, and police officer/violent crimes detective/S.W.A.T. Operator with the Orlando Police Department. Upon retirement as a public servant, Eduardo pursued a dual-career as instructor and college professor.
Eduardo has received numerous awards including Detective of the Year presented by the Victim Services Coalition and State Attorney of the Ninth Judicial Circuit Court of Central Florida, Award of Commendation, Merit Award, Award of Excellence, SIU Investigations of the Year Award Florida, SIU Investigations of the Year Award Country-Wide, and Million Dollar Club Award for Recoveries. He holds extensive advanced certifications related to Criminal Justice.
He currently lives in Central Florida.
Samuel O'Donnell
MA Theology and MS Leadership
Mr. O'Donnell is an adjunct faculty member, mentor, and peer reviewer for Southwestern College Professional Studies. He hails from Omaha Nebraska. He has an associate's degree in Nondestructive Testing Technology from the Community College of the Air Force. He is a Southwestern graduate where he earned a bachelor's degree in Pastoral Studies (Cum laude), a Master of Arts in Theological Studies with Thesis, and a Master of Science in Leadership degrees.
O'Donnell is a decorated combat veteran and a retired senior non-commissioned officer (SNCO) from the Air Force after more than 22 years of active duty service. He is a licensed member with the General Council of the Assemblies of God and is currently working on a Doctor of Ministry degree with a concentration in Church Leadership through Bethel Seminary.
An affiliate faculty member at PS since 2011, O'Donnell teaches general studies, leadership, and ministry courses. He is a lifelong learner and enjoys helping people develop into the best version of themselves.
He and his wife of 32 years live in Grand Forks, North Dakota where he enjoys making leather goods, playing guitar, and spending time with their two grown children.
Brian Perryman
EdD Aviation and Space Education and MBA Management
Dr. Perryman started teaching at Southwestern College in 2014. He holds a Bachelor's degree in Finance, an MBA in Management and a Doctorate in Aviation and Space Education. Dr. Perryman has over 35 years of experience in business. His business acumen comes from leading and consulting companies in a variety of industries including financial services, manufacturing, automotive, retail, higher education, real estate and big ticket consulting services. He has over 20 years of experience teaching. He also designed two complete first-of-their-kind degree programs in Oklahoma.
Dr. Perryman is a serial entrepreneur and president of Perryman Enterprises, Inc. He oversees the operations of MAFS Consulting (est. 1986), The Professor Tutoring (est. 1989), Federal Direct Tax Services of Oklahoma (est. 2015), and Free Oklahoma School Folders (est. 2015).
Dr. Perryman spends his free time keeping up required continuing education for his real estate license and his tax business. Dr. Brian Perryman enjoys spending time with his fiancé and their four adult children. A native Oklahoman, he currently resides in Oklahoma City where he volunteers as a leader in men's ministry at his church.
Lionel Santiago
MA Homeland Security/Security Management
Lionel Santiago holds a BS in Political Science and Interpersonal Communications from the University of Central Florida and an MA in Homeland Security with a concentration in Security Management from The American Military University. He is the lead faculty for the criminal justice and security management programs for Professional Studies.
Lionel is currently employed as a detective with the Orlando Police Department, where he has served for more than 21 years. During his tenure with the OPD, he has been assigned to Patrol, Neighborhood Patrol Unit, Parramore Heritage Bike Unit, and Criminal Investigations in both Property and Economic crimes. In 2015, he was assigned to the Orlando Police Department's Airport Division as a member of the Airport Tactical Unit. In 2018, he was asked to lead a new initiative to directly hire reserve officers to work at OIA. During that time period, he was also selected to become a Task Force Officer (TFO) in the local FBI-Joint Terrorism Task Force (JTTF) and was assigned to cover aviation and other transportation-related threats to Central Florida. He has recently returned to the Airport Tactical Unit and continues to serve in the JTTF as a TFO.
Lionel is a member of the Orlando Police Honor Guard, a former member of the Emergency Services Unit, the Emergency Response Team, and the Police Hazmat Team. He is a Florida Department of Law Enforcement Instructor certified in General Subjects, Defensive Tactics and Physical Fitness. He is also a certified Florida Crime Prevention Practitioner. Lionel also served eight years as an infantryman in the United States Army and the Florida National Guard.
Louis Savoldy
MLA Information Management Systems
Louis Savoldy earned a B.S. in Computer and Information Science from the University of North Florida and received a master's degree in Management Information Systems from Harvard University. In addition, he holds a graduate-level web-development and an Oracle Java Programming professional certificate.
He has 20 years of professional software development experience in the financial and healthcare domains. Throughout his career, he has developed many medium to large-scale client-server applications using various programming languages, frameworks, and persistence models.
In addition to his role at Southwestern, Louis is currently a Senior Software System engineer responsible for the development and architecture of a patient-facing hospital application that serves tens of thousands of users. His expertise includes relational data modeling, system integrations, system architecture, and API development using Java and the Spring framework.
Russ Schoech
MBA
Russ Schoech earned his BS in Business Administration from Wichita State University in 2001 and his MBA from Southwestern College in 2004.
Schoech has 29 years of practical experience. His career started out on a help desk for a health insurance company in Wichita, KS while he was attending college. His position there involved supporting "green screens" for an IBM AS/400 legacy system. From there, he began working for Southwestern College and helped set up the first Blackboard system for online learners. When he had some free time, he used it to learn new programming languages and wrote the college's first online enrollment system, for which he received the Fassnacht Outstanding Administrator Award in 2004. That opportunity allowed him to work as a full-time programmer for several years writing Go.edustar for Harris School Solutions.
Schoech currently works for a law firm in Kansas where he is able to continue programming on internal systems as well as perform server administration and eDiscovery work.
He has been a lifelong resident of Kansas, a state he deeply loves and enjoys.
Joel Short
MBA
Joel holds an MBA from Southwestern College, a BS in Computer Information Systems, as well as a degree in computer technology and network administration. He currently holds a position as a business systems analyst at Koch Industries where he works closely with IT developers. His role requires extensive use and knowledge of databases, agile and waterfall development cycles as well as a master-level understanding of PowerBI and Tableau as he is required to to provide data analysis and data stories to the legal team so they are able to make better data informed decision. His previous positions at Koch include litigation technology analyst, application systems analyst, and customer support trainer. He holds several CompTia and Microsoft certifications.
Joel integrates his knowledge of systems administration as well as his experience in project management, computer programming, and training and document creation to the online classroom setting.
He currently resides in Derby, Kansas.
Arthur Smith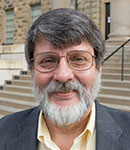 MSM
Arthur smith is currently serving as Executive Director for Faculty Affairs and Academic Support for Southwestern College Professional Studies. He is responsible for furthering instructional excellence in addition to faculty appointment, credentialing, and other faculty and academic-related administrative activities. Prior to this role, Arthur served as program director for the business and leadership programs at Professional Studies.
Arthur's professional knowledge and skills include expertise and experience in entrepreneurship; business strategy, leadership and management; knowledge, information, and technology management; business and market research; and quality and performance improvement. Arthur has held leadership, management, and specialist positions in healthcare and higher education organizations, as well as having been responsible for his own series of companies serving healthcare and human services organizations. Arthur has also served as an undergraduate and graduate higher education instructor before assuming the roles of program director and then executive director. Arthur recently authored the chapter, "Ensuring Quality: The Faculty Role in Online Higher Education" in the book Handbook of Research on Building, Growing and Sustaining Quality E-Learning Programs.
Arthur's current professional interests and research include strategic and knowledge-based leadership and management, community and corporate sustainability, and organizational and cultural anthropology. Personally, Arthur's major interests are in nature photography, nature and anthropological exploration, and conservation.
Hessam Vali
PhD Industrial and Manufacturing Engineering and MS Manufacturing Engineering
Hessam Vali is an experienced operations executive with a great focus on Lean Six Sigma programs, Quality Management Systems and Supply Chain Management. He has been working in different industries such as urban constructions, aviation and automotive. During his tenure, he helped several organizations to develop and promote the operational excellence, continuous improvement and problem-solving culture resulting in breakthrough improvements, both financially and operationally. Dr. Vali is co-founder and managing partner in two growing startup businesses both established in Wichita, Kansas; An operations consulting firm helping U.S. manufacturers improve their bottom line by adopting Lean system principles and a software company helping clients achieve their operations objectives using data science and cloud-based technologies.
Vali received his bachelor's degree Industrial Engineering in 2005. He then continued his education by pursing an MBA program in Carlton University with a focus on financial management. In 2011, he moved to Wichita and started his PhD program in Industrial Engineering and graduated in 2016. He is a Certified ISO 9001 Internal Auditor, Certified Quality Engineer, and Lean Six Sigma Black Belt.
While pursuing his PhD program at Wichita State University, he was recognized and awarded as an Outstanding International PhD Candidate. He also received an award from American Society for Quality- Wichita Chapter for his contribution in Quality.
Ivy White
DM Organizational Leadership and Master in Human Resources and Training
Dr. Ivy White is a seasoned human resources professional with 26 years of extensive HR experience inclusive of employee relations, workers' compensation, leave administration, recruitment, organizational behavior, and training and development in conjunction with employment law. Dr. White has a Doctorate degree in Management with a concentration in Organizational Leadership complimented with a Master's Degree in HR and Training and a Bachelor's Degree in Business Administration. She has worked in both public and private sectors as well as unionized environments. Dr. White has been a part of the Professional Studies faculty for almost five years and facilitates several classes in human resources and leadership for graduates and undergraduate programs. Dr. White currently works full time in human resources for a manufacturing company and is also a part-time Zumba instructor. She resides in Texas.
Kelly Wibbenmeyer
PhD Business Administration Management Information Systems and MBA Project Management
Dr. Wibbenmeyer obtained her Ph.D. in MIS from Northcentral University, MBA in Project Management from Wright State University, and a BS in MIS from Wright State University. Both her MBA and BS degrees were earned in a mixed on-ground/online learning environment and her Ph.D. was completely obtained online, giving her years of online learning experience. She also has her Six Sigma Black Belt certification, has been a certified project manager for over 18 years, and is an ITIL master as well.
Dr. Kelly Wibbenmeyer currently works at Mercy as a Director of IT Automation. She is actively working on Robotic Process Automation (RPA), Artificial Intelligence (AI), and Knowledge Management (KM) projects within her organization. She has taught project management for more than 10 years and thoroughly enjoys teaching in online and on-ground environments.
She currently resides in St. Louis, MO with her two sons and husband of more than 18 years.
Doug Wilson
MS Management – Organizational Leadership
Doug Wilson holds a MS in Management from Colorado Technical University and a BS in Science from Embry-Riddle Aeronautical University. He is currently a doctoral candidate seeking a Ph.D. in Business Administration with a concentration in Management from Northcentral University. Wilson has been a professional student for most of his adult life and has spent much of his academic life online.
He is currently head of change for Airbus Americas Engineering where he leads change for two engineering locations supporting over 500 engineers who support the commercial aviation division for Airbus Americas.
While in the Air Force, he led a team in 2009 that competed and won the Chief of Staff Team Excellence Award. He has since been recognized by Airbus' Leadership University to facilitate, train, and build content for the 135,000 colleagues that make up Airbus worldwide. He holds an Airframe and Powerplant (A&P) license as well as achieved multiple Black Belt certifications for Lean and Six Sigma. He is multi-year member of the American Society for Quality (ASQ) and the Project Management Institute (PMI).
Following his active duty retirement from the Air Force, he relocated to southern Alabama where he enjoys being close to the water just south of Mobile.