Academic Success Coaching
Every learner at Southwestern College Professional Studies is assigned an academic success coach (ASC), who will be your support throughout your academic program. Your ASC plays a critical role in the your educational journey, serving as your supporter, interpreter and guide while working toward degree completion.
You can expect your coach to:
Understand and effectively communicate

SCPS

's policies and procedures in relation to curriculum, enrollment and graduation requirements
Encourage and guide you to establish realistic goals and accept responsibility for your educational success
Support you in the venture of life-long learning, by communicating the purpose of higher education and how higher education impacts lives
Support

SCPS

in providing you, the non-traditional learner, educational opportunities that allow for full-time employment and life commitments
Monitor and provide accurate interpretation (degree plans) of your academic progress
Initiate and maintain open communication with you via telephone, e-mail, live chats and other such communication devices
Maintain confidentiality
Academic Success Coaches
Damien Akao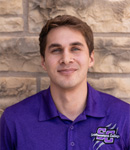 Business Quality Management, Operations Management, Computer Science, Elementary Education, Criminal Justice, Quality Management Certificate, Cyber Crime Certificate
Phone: 316.866.3375
E-mail: damien.akao@sckans.edu
Toll-Free Phone: 888.684.5335 ext 3375
 
Damien earned his bachelor's degree in sports communication and master's degree in organizational leadership from Newman University. He also has an associate's degree from Butler Community College. Damien is eager to help learners accomplish their academic goals. In his spare time, he enjoys staying active, watching NBA games, and spending time with family and friends.
Sadie Parker
Strategic Leadership, Human Resource Management and Development, Information Systems Management, Operational Leadership Certificate, Organizational Communication Certificate, M.S. in Leadership, M.S. in Management, PMBA, M.S. in Security and Emergency Studies, M.S. in Sport Management, Master's in Special Education (High and Low Incidence), M.Ed. in School Leadership, and all graduate certificates
Academic Success Coach
Phone: 316.866.3381
E-mail: sadie.parker@sckans.edu
Toll-Free Phone: 888.684.5335 ext 3381
Sadie earned her B.S. in Communication with a minor in Marketing from Emporia State University in December 2019. She also has concentrations in Leadership Communication, Organizational Communication, and Relational Communication. She earned her Professional Master of Business Administration from Southwestern College in 2023. When free, Sadie enjoys spending time with family and making Pinterest projects.
Nicole Dyson-Smith

Accounting, Business Administration, Healthcare Administration, Security Management, Business Innovation and Entrepreneurship, Organizational Psychology, Data Science, Business Innovation and Entrepreneurship Certificate, and Guest
Academic Success Coach
Phone: 316.866.3384
E-mail: nicole.dysonsmith@sckans.edu
Toll-Free Phone: 888.684.5335 ext 3384
Nicole earned a bachelor's degree in music and a master's degree in piano pedagogy from Wichita State University. She is also a teacher, musician, and creator of online escape room games for kids. In her free time, she enjoys practicing the piano and figuring out how to do magic tricks.