The Southwestern College online writing consultants are here to assist current Professional Studies learners with writing-related questions that may arise in any course within their degree program at SC. They are dedicated to guiding learners to better understand the writing process and gain confidence as they work toward completing their degrees.
Meet Your Writing Consultants
Melissa Olt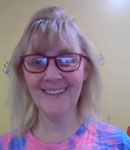 SC Faculty Writing Consultant, Affiliate Faculty
Melissa Olt is a published author, an accomplished instructor of English, and a course developer and Affiliate Faculty teaching English at SCPS. She holds a Ph.D. in education, an M.S in curriculum, instruction & technology, an M.A. in English, and a B.A. in French. She is a current member of the National Council of Teachers of English and the Academy of Orton-Gillingham Practitioners & Educators.
Kristen Scott
SC Faculty Writing Consultant, Affiliate Faculty
Kristen Scott is an award-winning, published author and the Editor-in-chief of her own e-zine. She currently teaches English courses for Southwestern College – Professional Studies. She holds an MFA in Creative Writing, MA in English Literature, and is progressing with her Ph.D in Global Education and Comparative Literature. Originally from Colorado, Scott resides on the Riviera in Türkiye, where she has lived for several years.
Online Writing Resources
Getting Started
Understanding an Assignment (Swarthmore)
Understanding Assignments (UNC Chapel Hill)
Plagiarism
Plagiarism: How to Avoid It (Bainbridge State College)
Research
Formulating a Research Question (University of Kansas)
Combining Your Viewpoints and Research (College of St. Rose)
Summary, Paraphrase, and Quotation (U of Montana)
Quoting, Paraphrasing, and Summarizing
The Writing Process
The Writing Process (University of Kansas)
Concept Mapping (Carnegie Mellon)
Determining Your Audience (AIMS)
Evaluating Your Own Writing (University of Montana)
Effective Strategies for Narrowing a Topic
Summarizing and Synthesizing Arguments
Academic Writing/Using Quotes
Argumentative vs. Persuasive Writing
Thesis Statement
Thesis Statement Writing Tips (University of Illinois)
Writing a Great Thesis (Shmoop)
Organization
Essay Outline
Flow (UNC Chapel Hill)
Glossing Your Paper (College of St. Rose)
Tracking Changes in Microsoft Word (Texas A&M)
Paragraphs
Body Paragraphs (OWL Purdue)
Introductions
Writing a Topic Sentence
Using Transitions Effectively (University of Washington)
Grammar/Specific Grammar Concerns
Grammar Handbook (University of Illinois Urbana-Champaign)
Guide to Grammar and Writing (Capital Community College)
Grammar, Punctuation, and Style (BYU Idaho)
APA
APA: OWL Purdue Online Writing Lab
Excelsior College OWL: APA Style
APA Seventh Edition Sample Paper
APA Style – Academic Writer Tutorial: Basic of Seventh Edition APA Style
Differences in Quoting, Paraphrasing, and Summarizing
APA Citation Style, 7th Edition: APA 6/7 Comparison
Adding a Hanging Indent in Word
ESL
ESL Trouble Spots (Bedford/St. Martins)
Comma Splices
Subject Verb Agreement
More Subject Verb Agreement
Article Usage
Sentence Structure
More Sentence Structure
Parts of Speech
English Tenses
Grammar Practice
More Grammar Practice
English with Jennifer – YouTube Channel
SC Online Writing Tutoring
FAQ

s
Why should I request an online consultation?
Academic and professional writing is purposeful communication. Meeting the learner at his/her present writing level, one-on-one consultation with a faculty writing consultant can help a learner to:
gain clarity in the rudiments of writing structure
identify the writer's respective strengths and weaknesses
develop skills in revision and editing of one's own writing
become a more confident academic and professional writer
What kind of writing might one seek help with?
Come to the consultation to receive guidance at any stage in the writing process for help with any type of writing and/or writing-related issue, across the curriculum, with the single stipulation that one must submit a writing prior to the consult. This serves as a place to start and facilitates the consultant's preparation ahead of the meeting.
Do the consultants provide editing services?
Consultants will guide the learner to gain clarity on writing concepts and strategies including grammar, punctuation, and sentence construction. The Writing Center does NOT provide editing services. One might consider editing websites such as Grammarly.com for the opportunity to submit a writing assignment and receive immediate feedback.
What can I expect from a 30-minute virtual consultation?
In a typical consultation, the learner can expect to receive answers to writing-related concerns. The consultant may also recommend goals for the session and/or provide guidance in meeting assignment requirements. Depending on the learner's individual needs and/or the specific assignment instructions, the consultant might guide the conversation in the direction of:
brainstorming and narrowing to a topic
thesis development
essay structure and development
topic sentences and paragraph development
prewriting and organizational strategies
audience identification
understanding and effectively using

APA

manuscript style and documentation
avoiding plagiarism   
revision and editing
addressing specific grammar and sentence-level issues
Online Tutoring Center Contacts
General questions:  pstutoring@sckans.edu.
Technical Support: HelpDesk